Let's take a look at this New York Times piece titled "Popular Domestic Programs Face Ax Under First Trump Budget."
WASHINGTON — The White House budget office has drafted a hit list of programs that President Trump could eliminate to trim domestic spending, including longstanding conservative targets like the Corporation for Public Broadcasting, the Legal Services Corporation, AmeriCorps and the National Endowments for the Arts and the Humanities.
At this point I have to break out this Archer meme: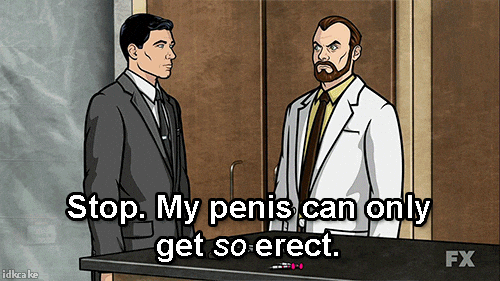 You know what all these programs have in common: None are constitutionally enumerated concerns of the federal government.
And note the headline: "Popular Domestic Programs." Popular to who? Why, Democrats, of course. I would imagine that 90+% of the money spent on those programs goes directly into the pockets of Democrats, and mostly well-heeled and well-connected ones at that.
More:
Work on the first Trump administration budget has been delayed as the budget office awaited Senate confirmation of former Representative Mick Mulvaney, a spending hard-liner, as budget director. Now that he is in place, his office is ready to move ahead with a list of nine programs to eliminate, an opening salvo in the Trump administration's effort to reorder the government and increase spending on defense and infrastructure.

Most of the programs cost under $500 million annually, a pittance for a government that is projected to spend about $4 trillion this year. And a few are surprising, even though most if not all have been perennial targets for conservatives.

Mr. Trump has spoken volubly about the nation's drug problems, yet the list includes the White House's Office of National Drug Control Policy, which dispenses grants to reduce drug use and drug trafficking. And despite Mr. Trump's vocal promotion of American exports, the list includes the Export-Import Bank, which has guaranteed loans to foreign customers of American companies since the 1930s.

While the total amount of annual savings of roughly $2.5 billion would be comparatively small, administration officials want to highlight the agencies in their coming budget proposal as examples of misuse of taxpayer dollars. An internal memo circulated within the Office of Management and Budget on Tuesday, and obtained by The New York Times, notes that the list could change. Proposals for more extensive cuts in cabinet-level agencies are expected to follow.
All this, of course, could be a trial balloon, and the actual budget cuts could be far more timid. But overall, it's exceptionally promising, especially since Trump did not evidence much (if any) enthusiasm for budget cutting on the campaign trail. But a willingness to kill entire agencies (especially those that make of some of the Democratic Party's favorite slush funds) is incredibly heartening.
If America is going to deal with the existential threat that is the national debt, there needs to be a lot more budget cutting ahead.