The worst thing about doing a Chelsea Clinton Watch is that anyone, anywhere, would ever need to do a Chelsea Clinton Watch. Yet here we are.
Conservatives would be happy to ignore Chelsea Clinton (at least when she's not aiding and abetting bribery at the Clinton Foundation) if only the mainstream media would do the same.
Alas, the Democratic Media Complex doesn't want to hold up their end of that bargain.
So enjoy(?) this first (hopefully only?) roundup of Chelsea Clinton news:
"Please, God, Stop Chelsea Clinton from Whatever She Is Doing. The last thing the left needs is the third iteration of a failed political dynasty."

Also:

"Increased Chelsea exposure is tied closely to political despair and, in especially intense cases, the bulk purchasing of MAGA hats."

Thanks you sir, may I have another?

"Reading anything by Chelsea Clinton—tweets, interviews, books—is best compared to taking in spoonfuls of plain oatmeal that, periodically, conceal a toenail clipping."

And this:
The crude conventional wisdom is that Bill Clinton craved adoration and Hillary Clinton craved power. But Chelsea Clinton seems to have a more crippling want: fashionability—of the sort embraced by philanthropic high society. So you tell The New York Times that your dream dinner party would include James Baldwin, Shakespeare, Franz Kafka, Albert Camus, Jane Jacobs, and Jane Austen, and discussion would be about how "people and communities can evolve to be more inclusive, more kind, have a greater and broader sense of solidarity, while still respecting individual liberties; what provokes or blocks those changes; and what stories might resonate today to encourage us toward kindness, respect, and mutual dignity." You almost have to bow down before someone who could host Shakespeare for dinner and make the agenda wind up sounding like a brochure for the Altria Group. At least Kafka would be on hand to capture the joy of the evening.
Kevin D. Williamson is also not a fan:

Chelsea Clinton, most recently lionized on the cover of Variety, is a 37-year-old multi-millionaire who has never uttered an interesting word about any subject at any time during the course of her life. Judging from the evidence of her public statements, she has never had an original thought — it isn't clear that she has had a thought at all. In tribute to her parents, she was given a series of lucrative sinecures, producing a smattering of sophomoric videos for NBC at a salary of $600,000 a year. She later went more formally into the family business, leaving her fake job at NBC for a fake job in her parents' fake charity. She gave interviews about how she just couldn't get interested in money and bought a $10 million Manhattan apartment that stretches for the better part of a city block.

And, since her mother's most recent foray into ignominious defeat, she has been inescapable: magazine covers, fawning interviews, talk of running her in New York's 17th congressional district. The Democrats are doing their best to make Chelsea happen.

And, who knows, it might work. It would be tempting to write her off as a know-nothing rich kid who has made a living off her family connections while operating one of the world's most truly asinine Twitter accounts, but . . . well, you know.

But, for Pete's sake, stop it. Have a little self-respect, Democrats. Build Bill Clinton a statue or . . . whatever. Send him your daughters like a bunch of bone-in-the-nose primitives paying tribute to the tribal chieftain. But stop trying to inflict this empty-headed, grasping, sanctimonious, risible, simpering, saccharine little twerp on American public life.
"The problem with Chelsea is the same one Democrats faced with Hillary. She's unapproachable and scripted, unnatural in a crowd, and seemingly condescending to the camera. Anyone not previously employed by the Obama or Clinton administrations can see it. They can smell it. And they've made it clear (twice now) that they don't like it."
The American Interest tells us why the Chelsea boom won't go away.

The loyalists who make up this apparatus want—or even need—for the gears to keep spinning. And for that, the machine needs to offer the promise of future influence. Otherwise, donations to the Clinton Foundation would dry up; speaking engagements would become less lucrative; Clinton-backed spin organizations would wither; and dozens of jobs would disappear. All this is to say that the strange persistence of Chelsea boosterism does not come out of nowhere; it is the product of a supremely well-organized political organization revving its engines. And it will not be shut down voluntarily.
(Hat tip: Director Blue.)
Video game writer Ian Boudreau offers the case against Chelsea Clinton in Tweet form:

Why all the hate for Chelsea Clinton? HERE IS WHY:

— Ian Boudreau (@iboudreau) April 23, 2017
It's beyond obvious that her recent visibility is a marketing push, probably engineered by one of her mom's PR firms.

— Ian Boudreau (@iboudreau) April 23, 2017
She is the scion of the wealthiest American political family since the Rockefellers.

— Ian Boudreau (@iboudreau) April 23, 2017
She has banked on her name to traipse through a series of honorary degrees and sinecures, including earning $600,000 as an NBC "intern"

— Ian Boudreau (@iboudreau) April 23, 2017
Can you remember an NBC news piece she helped produce? I sure can't. But it earned her more than most American families make in 10 years.

— Ian Boudreau (@iboudreau) April 23, 2017
She holds a PhD in international relations from Oxford University, and is still able to be the most consistently boring account on Twitter.

— Ian Boudreau (@iboudreau) April 23, 2017
"She's not running for anything though!"

She is going to, and the Party will back her, mark my words.

— Ian Boudreau (@iboudreau) April 23, 2017
Finally, if the MSM is going to push Chelsea as a "glamorous icon," then we need to puncture that idea with the cruel truth of how absolutely devoid of glamour she is.

How cruel? This cruel: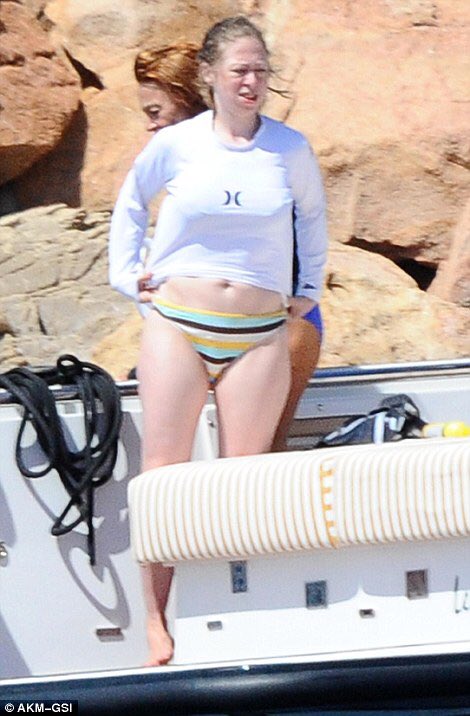 Ending the baleful influence of the Clinton family should be a bipartisan issue. Evidence suggests that from, oh, 1994 on (and 2001 at the outside), Democrats have suffered for the misdeeds of the Clintons far more than Republicans. Indeed, it is far more in Democrats interests than Republicans to see the irrational boomlet for Chelsea Clinton end, as she sucks time and attention from potential Democratic candidates with actual talent and ability.
And it's in my interest to see her go away, as I really don't want to make Chelsea Clinton Watch a regular item…