The coalition of forces fighting the Islamic State continue to make steady advances on a number of fronts:
Mosul is liberated, though mop-up operations against tiny pockets of resistance continues. They just pulled 28 mostly foreign born militants out of tunnels. That sort of thing can continue for a while. The Washington Post has a nice overview of the campaign to retake Mosul.
Islamic State forces are completely surrounded in Raqqa, as coalition aircraft pound militant positions in the capital of the crumbling caliphate and the Syrian Democratic Forces continue to grind them down in street-to-street urban warfare. Here's the livemap snapshot:
There are consistent but unconfirmed reports from a number of sources that Islamic State leader Abu Bakr al-Baghdadi is dead. As in past cases of jihadis reported dead long before they actually reached room temperature, a large dollop of caution is in order. Though this quote from a coalition spokesman (relayed via Stephen Green at Instapundit) is pretty glorious: "We strongly advise ISIS to implement a strong line of succession, it will be needed."
Given the investment of Raqqa, there are conflicting reports as to where the Islamic State's defacto capital is now: Some say Deir ez-Zor, others say Al Mayadin, AKA Mayadeen, which is all of 44km southeast of Deir ez-Zor, both in Syria on the Euphrates near what used to be the Iraqi border.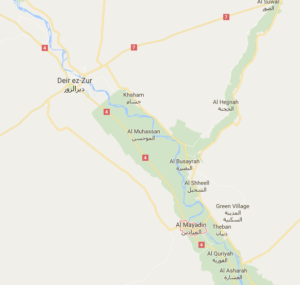 How President Trump's strategy against the Islamic State differs from Obama's:

Under President Obama, U.S. Army Special Forces assigned to Syrian Democratic Forces needed special approval from Washington for virtually all tactical moves amid the politically complex theater of Americans, Arabs, Kurds, Turks and Syrians.

In Tabqa, where the city, its dam and its airfield were the objectives, the Green Berets decided they needed an airlift. Suddenly minus red tape, Arabs, Kurds and Americans were helicoptering into battle, and they quickly seized territory.

Under Mr. Obama, Islamic State terrorists could at times retreat from towns, immune from airstrikes if they used civilians as cover. The battle for Manbij in August became infamous when the SDF let 200 Islamic State fighters turn in their weapons and escape because they had threatened to kill town residents if they were not allowed to run away.

The new Trump strategy calls for surrounding towns, as opposed to pushing from one end or one side to another, in order to isolate Islamic State fighters and annihilate them.

Brett H. McGurk, special U.S. envoy to the coalition against the Islamic State who performed the same role for Mr. Obama, talked of "the delegations of authority which has made a difference in terms of the speed of execution. I think Tabqa was an example of that."

"Our military people on the ground saw an opportunity to kind of surprise ISIS with a helicopter, moving them by helicopter, surprise them from behind and seize the airport, the dam and the town," Mr. McGurk later told reporters at the Pentagon.

After Tabqa's liberation, Mr. McGurk spoke to the city's mayor, who gave a brief description of the war of annihilation.

"He also said he believes that most of these foreign fighters are now dead," the diplomat said.

Mr. Mattis said: "No longer will we have slowed decision cycles because Washington, D.C., has to authorize tactical movements. I'll leave that to the generals who know how to do those kind of things. We don't direct that from here. They know our intent is the foreign fighters do not get out. I leave it to their skill, their cunning, to carry that out."
Some videos:

House-by-house clearing in Raqqa:

The ruins of the Al Nuri Mosque in Mosul, from which al-Baghdadi declared his short-lived caliphate:
The Islamic State is by no means destroyed, but they're definitely on the ropes. The defeat of the Islamic State won't end transnational Islamic fundamentalism, but it will certainly take the wind out of their sails.
Not included in this roundup: Groups outside Islamic State territory that pledged allegiance to the Islamic State. I hope to have a separate roundup on them Real Soon Now.
Note: Post updated to remove embedded video on improvised weapons of the Battle for Mosul, as it's been taken down for "violating YouTube's Terms of Service," possibly because it included Islamic State propaganda videos of weapon-making among the footage.