The most important Texas political race is obviously the Texas Senate race. Barring any unforeseen catastrophe, I fully expect Ted Cruz to soundly thump Paul Sadler in November.
The second most important Texas race is for the 23rd Congressional District, where Republican Francisco "Quico" Canseco eked out the second closest win over a Democratic congressional incumbent in 2010, beating Ciro Rodriguez by a little over 7,000 votes. Rep. Blake Farenthold's win over Solomon Ortiz in the 27th congressional district was the closest Texas CD race that year, decided by a mere 799 votes, but the 27th was made considerably more Republican in redistricting, going from voting for Obama by 53% of the vote to a mere 40% of the vote under the new district lines.
The legislature was not able to reenforce Canseco's sprawling district to nearly the same extent, and it was only made slightly more Republican, going from a 51% Obama district to a 50% Obama district. That, plus the power of incumbency and $1 million cash on hand (as of June 30) give Canseco a real fighting chance to hold the seat. His Democratic opponent, Pete Gallego, spent all his money to beat Rodriguez in the runoff, but this is still the only decent shot Texas Democrats have to defeat a incumbent Republican congressman this year, so expect the usual big Democratic donors (unions and trial lawyers) to come to his rescue.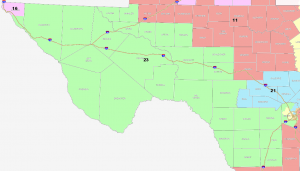 Heritage ranks Canseco a solid (if not exceptional) conservative at 72%, higher than the (lamentably low) Republican House average of 65%, but 50 points better than even the best Texas Democratic representative (Henry Cuellar).
If you were looking for a Texas congressional race where your donations might help Republicans hold a tough seat, this is the one.
A few recent tidbits about the race:
Canseco will be a speaker at the Republican National Convention.
Canseco is not a fan of the TSA fondling his junk. Maybe he'll help eliminate this useless agency.
Meanwhile, Gallego has overhauled his staff for the fourth time.