I enjoyed attending what little I could of the Texas Public Policy Foundation 2013 policy orientation held January 9-11. Here are a few quick and largely random impressions:
Because I just started a new day job, I wasn't able to attend until Thursday evening, which meant I got to enjoy Austin's lovely rush-hour traffic on Mopac and only got to hear about half of Ted Cruz's pre-recorded message. (Cruz was originally scheduled to appear with Sen. John Cornyn, but had to fly off to Afghanistan and Israel on a Senate Foreign Relations trip. Cruz also appeared at lunch that day, a session I was unable to attend.) Then it was time for Texas' senior U.S. Senator, John Cornyn, to be interviewed.
He defended the Fiscal Cliff deal as necessary to avoid a huge tax increase. He talked about the Senate's inability to pass a budget. "Shame doesn't work on Harry Reid."
On foreign and defense policy, he noted (correctly) that keeping the American people safe is the number one responsibility of government. Cornyn says he's opposing the nomination of Chuck Hagel and dinged Obama over Benghazi. "If the President and his Administration had been honest about Benghazi, they're wouldn't have been a scandal." (Paraphrased.)
Cornyn also displayed a certain tone-deafness in regard to his audience. When asked to mention possible 2016 GOP Presidential candidates, the first name Cornyn mentioned was NJ Governor Chris Christie, which drew audible groans and hisses from the audience, for good reason.
After the Cornyn speech there was a blogger met-and-great at Rivals Steakhouse. I met a bevy of state Reps whose names quickly blurred together, as well as Ashley Sewell, AKA @TXTrendyChick, who I had already been following on Twitter, and a bunch of other bloggers. Most interesting bit of off-the-record gossip: Confirmation of my Rick Perry hopped-up on goofballs theory. "When I saw him running around Iowa in flats I knew he was in a lot of pain. The man practically sleeps in boots."
On Friday, I took a long lunch to attend the Newt Gingrich luncheon and signing. I sat one seat down from the indefatigable Holly Hansen (who has her own, far more extensive coverage), and @TXTrendyChick promptly plopped down between us. Obviously our table was the place to be.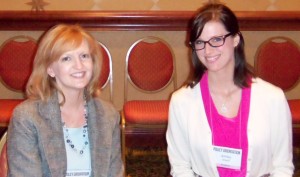 I get to hang out with all the cool chicks!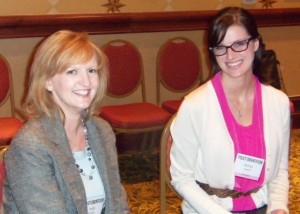 Lt. Governor David Dewhurst was Gingrich's warm-up speaker. Dewhurst has improved somewhat since his losing Senate race against Ted Cruz last year, but he's still not a natural speaker. He tries to cram too many policy points into a speech, and isn't skilled enough to distinguish between major and minor points. When it comes to conservative policy, he seems to know the words, but doesn't hear the music.
Dewhurst's four points as to why Texas is doing better than any other state (1. We keep our spending low, 2. Keep our taxes low, 3. A light regulatory hand, and 4. Keep state government out of the way) were all very solid. He also promised additional budget cutting; let's hope he follows through.
Most interesting parts of Dewhurst's speech: A clumsily-phrased plea for welfare reform ("I'm not going to pay people to sit on the couch and do drugs," a proclamation that will no doubt disappoint many members of Occupy Wall Street), and a proposal to arm teachers in the classroom.
Gingrich came on stage to a standing ovation. He said it was unfair for other states to compete with Texas, since we weren't raising taxes and spending like California. (This is what people call "sarcasm.")
This was definitely Gingrich 2.0 (or maybe 8.6), an idea-a-minute futurist (I'd like to see him and Bruce Sterling bounce off each other for a couple of hours someday). He was saying things about America 2.0, ubiquitous diagnostic cell phones as a health care initiative, having the programmers behind World of Warcraft come up with ways to teach our kids, and puters mkn kdz wrt btr (I iz skptical). It was even more scatter-shot than Dewhurst, but seemed a lot more organic. And he had one truly fascinating factoid: Students taking Stanford's online classes did better on tests than the ones taking classes in person.
Gingrich seems genuinely optimistic about America's future, which is a nice contrast with many of us after the 2012 election.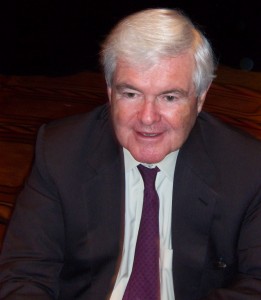 After the speech I managed to get him to sign two books for me, To Renew America, and Jim Wright's Reflections of a Public Man, which he was quite amused by.
A few more luminaries: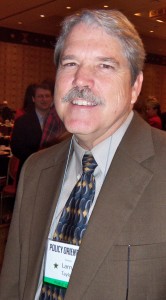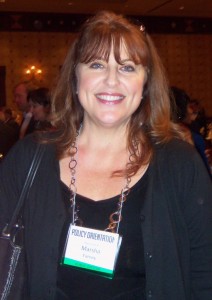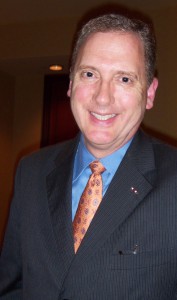 A very dapper Chuck DeVore. He wasn't born in Texas, but he got here as quickly as he could.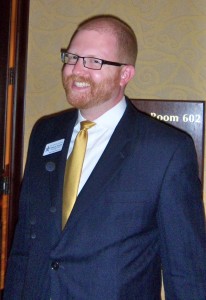 Apologies to anyone I didn't mention, didn't run into, or didn't get a picture of (some just didn't come out well). It was a busy two days!
And congratulations to TPPF honcho David Guenthner and his many minions, for all the hard work in carrying this off: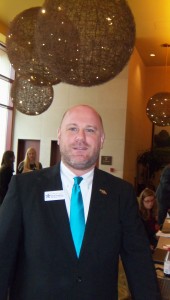 In addition to the copy of Texas Got it Right handed out to everyone, David thrust a copy of DeVore's The Texas Model: Prosperity in the Lone Star State into my hands. Hopefully I'll have a chance to say more about both in the not-so-distant future.
Tags: Books, California, Chuck DeVore, David Dewhurst, David Guenthner, Guns, Holly Hansen, John Cornyn, Joshua Trevino, Larry Taylor, Marsha Farney, Newt Gingrich, pics, Regulation, Republicans, Taxes, Ted Cruz, Texas, Texas Public Policy Foundation