Texas State Rep. Jason Villalba, ostensibly a Republican, seems to be going out of his way to alienate actual Republican voters.
First he was among the (sadly many) Republican Representatives to vote to reelect Joe Straus Speaker, then got caught praising Straus' progressive agenda.
Next came Villalba's introduction of H.B. 2918, which attacks the rights of photographers, bloggers and CHL holders under the guise of protecting police from being assaulted by cameras.
Naturally, this has lead to a raft of criticism on Twitter and elsewhere. (There's aeven a Recall Jason Villalba Facebook group. Since Texas does not have any recall election mechanism for state-level officials, I presume they mean to back a primary challenge to him in 2016.)
So what has Villalba's reaction to this criticism been?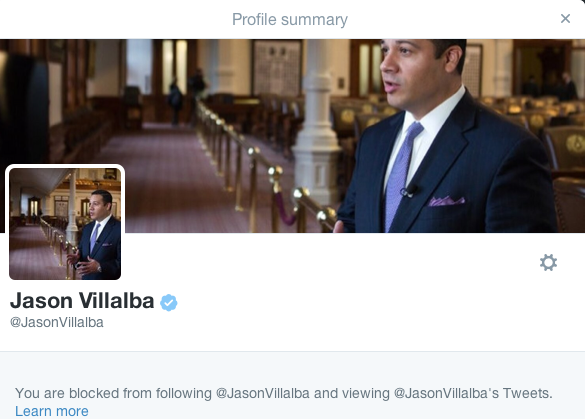 So go ahead and add "thin-skinned" to the list of Rep. Villalba's flaws…
Tags: Guns, Jason Villalba, Republicans, Texas, Texas 84th Legislative Session, Twitter