De Blasio and Bullock are In, which means I'm now tracking 24 declared Democratic Presidential candidates. That's enough to field both side of a football team, plus Mike Gravel as the coach and Beto O'Rourke as the towel boy. It's the latest Democratic Presidential Clown Car Update!
Polls
Reuters finds Biden up five points since their last poll: Biden 29, Sanders 13, O'Rourke 6, Warren 6, Harris 6, Buttigieg 4, Booker 2, Klobucher 1, Gillibrand 1, Hickenlooper 1, Castro 1, Yang 1, Inslee 1, Ryan 1, Bennet 1, de Blasio 1. That's one more than I ever expected for de Blasio…
Fox: Biden 35 (up 4), Sanders 17, Warren 9, Buttigieg 6, Harris 5, O'Rourke 4, Booker 3, Castro 2, Klobucher 2, Delaney 1, Gabbard 1, Inslee 1, Ryan 1, Williamson 1, Yang 1. I think two percent is a record for Castro.
Quinnipiac Pennsylvania: Biden 39, Sanders 13, Warren 8, Harris 8, Buttigieg 6, Booker 5, O'Rourke 2, Klobucher 1. Relatively good showing for Booker, but state polls tend to be more volatile.
Pundits, etc.
Rich Lowry wonders if President Donald Trump has, paradoxically, driven Democrats sane.

What if Donald Trump hasn't driven Democrats insane, sending them into a spiral of self-defeating radicalism, but instead made them shockingly pragmatic?

Biden's early strength suggests it may be the latter, that the reaction to Trump is so intense that it has crossed some sort of event horizon from fevered fantasy of his leaving office early via resignation or impeachment to a cold-eyed, win-at-any-cost practicality.

If this is true, one of the exogenous factors that could appreciably increase Trump's odds of reelection — a zany Democratic nomination contest leading to a nominee much too far left for the American electorate — may not materialize.
Snip.
If hardly dispositive, Biden's robust numbers at least suggest that this play is more likely than it seemed in the very early going, when candidates were stumbling over one another apologizing for sundry alleged offenses in the Woke Olympics.

If that's not going to be the true dynamic of the race, I'm as surprised as anyone. What's extraordinary, though, is that almost every Democratic candidate might have been misreading it as well, and chasing the wrong rabbit down the track.

Certainly, Bernie Sanders dominated the intellectual and policy debate in the wake of his 2016 run, driving other presidential candidates to embrace his signature proposals. And Alexandria Ocasio-Cortez is a genuine political star.

It's only because the center of gravity of the party has clearly moved left that Biden, always a standard liberal, now sounds like a centrist when he calls himself an Obama-Biden Democrat.

But, as Harry Enten of CNN, among others, has been insisting for some time, the average Democrat is older, more moderate or conservative, and less likely to have a college degree than you'd guess from following Twitter or cable TV.

These voters were underserved by the rest of the field, and Biden is taking dead aim at them with the simple message that he can beat Trump.
Your latest "There are two many Democrats running" thumbsucker:

Others suggest that the size of the field highlights vulnerabilities of the two candidates now topping the polls, former vice president Joe Biden and Sen. Bernie Sanders (I-Vt.). Biden has started strong, but it's too early to judge his candidacy. Front-runners never coast to victory, and he will face adversity, whether self-inflicted or delivered by a rival who rises to the moment.

One risk for Democrats is that, with so many candidates and so many voices, side debates distract from core issues and unifying messages. The debate over reparations sparks passions within the Democratic base but is not an issue high on the list of most voters who will determine who is the next president. The same is even more true of the issue of whether violent felons, terrorists or sexual predators should be allowed to vote while in prison, a topic recently injected into the Democratic conversation by Sanders.
Some states are moving from primaries to caucuses:

At least 10 states are planning to switch from a caucus to a primary in 2020. As things stand, just two states — Iowa and Nevada — have firm plans to caucus again. Two other 2016 caucus states — Maine and Wyoming — are still up in the air. Maine lawmakers may establish a government-run primary, in which case the Maine Democratic Party plans to move to a primary. And Wyoming Democrats are still ironing out some details.
"Ghost of Hillary Clinton haunts 2020 Democratic hopefuls."

"I think it's also critical to understand, as I've been telling candidates who have come to see me," she said last week, "you can run the best campaign, you can even become the nominee, and you can have the election stolen from you."

One third of that statement is true — she was the nominee; two thirds are not. Hillary Clinton did not run the best campaign. Her campaign was a disaster. She was a disaster. She insulted half of the electorate by calling them "deplorables" even before the first vote was cast.

"So, part of our challenge is to understand what it will take to put together not only the popular vote, but the Electoral College," she added.

That is good advice. It is also advice she should have given herself in 2016 when, capturing the popular vote, she lost the Electoral College to Trump.
And via Reuters, here's a handy visual guide to the clown car: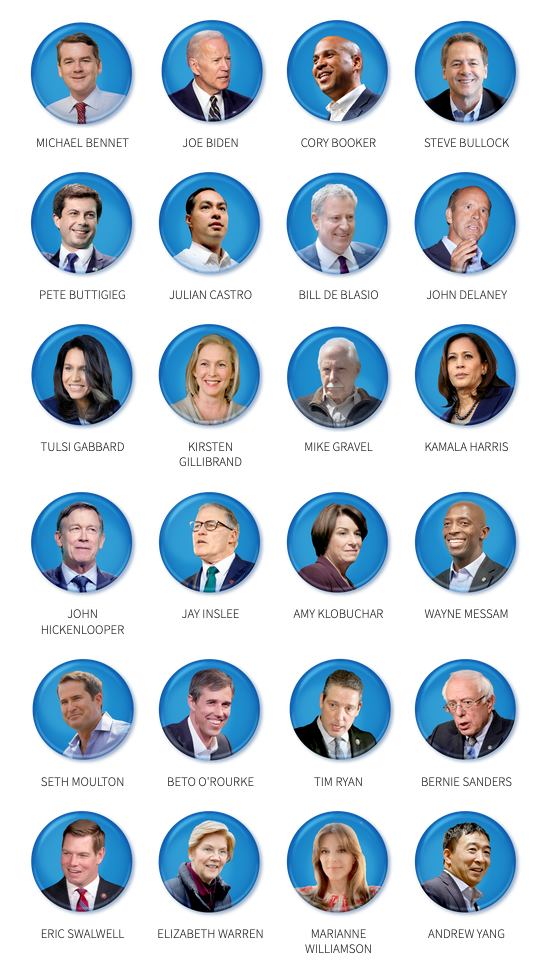 Now on to the clown car itself:
Losing Georgia gubernatorial candidate Stacey Abrams: Maybe? Blah blah blah abortion blah blah blah. But she did finally pay off the $54,000 she owed the IRS, as well as student and credit card debt. Which shows that attention=money, so why wouldn't she run for President?
Creepy Porn Lawyer Michael Avenatti: Out. Somehow I missed the fact that Avenatti endorsed Biden after he entered the race. I'm sure Biden is just thrilled at that endorsement.
Actor Alec Baldwin: Probably not.
Colorado Senator Michael Bennet: In. Twitter. Facebook. Far-left group Demand Justice is already running attack ads against him for voting for too many of Trump's judicial nominees. Demand Justice is being run by Brian Fallon, who was press secretary for Hillary Clinton's 2016 run. Makes you go "Hmmmmm."
Former Vice President Joe Biden: In. Twitter. Facebook. Little did I know when I posted about the John Durham appointment that I would be mentioning late Boston mobster James "Whitey" Bulger twice in one week, since Joe Biden's son Hunter is doing business with his nephew, also named James Bulger, along with John Kerry's stepson Chris Heinz, in a deal with the Bank of China. Biden's rhetoric suggests he's already looking toward the general election. Biden's popularity suggests that maybe voters don't want change after all:

A January poll by the Pew Research Center found that 58 percent of Republicans wanted their party to become more conservative. In contrast, 53 percent of Democrats wanted their party to become more moderate.

That raises the question of whether the party's center of gravity lies less with vocal activists than with a quieter group of voters that is less likely to join Twitter or show up at campaign events. "His candidacy may be different," says Biden's campaign pollster John Anzalone, "But it is the one that is working."
Feminist Jill Filipovic asks "Does Anyone Actually Want Joe Biden to Be President?" It's yet another "Electability Sucks, Because White Male!" screed:
The Democratic Party of 2019 does not look much like Joe Biden. Women, African-American, Latino and Asian voters are all much more likely to say they support Democratic candidates than Republican ones. White voters, male voters and especially white male voters generally support Republicans.

Statistics on who votes Democratic also suggest that the Democratic Party is more diverse than the experts deciding who is electable.

Those assumptions about electability reflect entrenched biases more than political science, and have a dash of arrogance to boot. An electable candidate, the thinking goes, has to be authentic and broadly appealing. But authenticity itself is coded as white and male when it's defined by white men.
"Shut up and eat your intersectionality, white patriarchal oppressor!"
Former New York Mayor Michael Bloomberg: Probably not.
New Jersey Senator Cory Booker: In. Twitter. Facebook. Gets a PBS profile; expect to read the Hassan Washington anecdote in every Booker profile. Plus an NPR interview. I'm just assuming the Booker campaign has friends at NPR.
Former California Governor Jerry Brown: Doesn't sound like it.
Ohio Senator Sherrod Brown: Out.
Update: Montana Governor Steve Bullock: In. Twitter. Facebook. He announced last week.

According to Morning Consult data from the first quarter of 2019, Bullock is among the 15 most popular governors in the country, and one of the top Democrats to make the list (13 out of the top 15 most popular governors are Republicans; the other Democrat is Delaware governor John Carney). But that fact makes Bullock's decision to run for president a bit more puzzling.

In a field of 23 candidates, where Biden continues to lead the pack by double digits in many polls, it's hard to imagine the Montana governor will have an easy time making an impression on primary voters. But it's much easier to imagine Bullock putting up a decent fight against Republican senator Steve Daines, who is up for re-election in 2020.
He launched his presidential campaign by coming out against free speech. 538 says that Bullock is talking about his plan to reach out to rural voters:
In a May 8 tweet, he said, "As the only Democrat to win statewide re-election in a Trump state in 2016, I know firsthand: we must reach out to rural voters."

And this message might resonate. As we know from polls, many Democratic voters think it's a very important consideration to nominate a candidate who can beat President Trump, and as a white man, Bullock may benefit from perceptions that he is "electable." But he has empirical evidence for it, too: He has won three statewide elections in red, heavily rural Montana — one for attorney general and two for governor. In 2016, he won his second gubernatorial term with 50 percent of the vote, 15 points more than Democratic presidential candidate Hillary Clinton.
He's all in on Iowa, and has an endorsement from Iowa's attorney general Tom Miller.
South Bend, Indiana Mayor Pete Buttigieg: In. Twitter. Facebook. He had a town hall on Fox. "Mayor Pete and the Order of the Kong: How Buttigieg's Harvard pals helped spur his rise in politics." One of those friends was "Joe Green, who was Facebook cofounder Mark Zuckerberg's roommate." Yep, just good old ordinary, salt-of-the-earth Mayor Pete…
Pennsylvania Senator Bob Casey, Jr.: Out.
Former San Antonio Mayor and Obama HUD Secretary Julian Castro: In. Twitter. Facebook. He jumped on the impeachment bandwagon. Because I'm sure trying to impeach Trump and year and a half before a Presidential election couldn't possibly backfire on Democrats. He visited Tennessee, whose primary is on March 3. He also visited Santa Clarita University in California.
Former First Lady, New York Senator, Secretary of State and losing 2016 presidential candidate Hillary Clinton: Out. But Howard Stern thinks her refusal to go on his show may have cost her the election.
Update: New York City Mayor Bill De Blasio: In. Twitter. Facebook. See my previous post on how he sucks and everyone hates him. (And honestly, actually running on the slogan "De Blasio 2020: He Sucks And Everyone Hates Him" would actually probably earn him more votes than he would get otherwise.) I note that his official Presidential website has exactly zero links to the actual policies he's running on. Jonah Goldberg calls him "the Sponge of Woke Platitudes":

The reason it is very unlikely that de Blasio will replicate the success of Donald Trump in the Democratic primaries is that he cannot offer any contrasts that matter. He isn't entertaining, he's tiresome. He isn't charismatic, he's unctuous. He talks like the president of a small liberal-arts college, spouting clichés plucked from a flier on an assistant professor of Peace Studies' door. He seems convinced that the glassy expression on the faces of the students and faculty in the audience is awe, not a soul-numbing tedium that is a few desperate heartbeats away from resorting to self-harm just to feel something again.
De Blasio holds press conference at Trump Tower — and gets heckled. Come for the pro-Trump posters, stay for the "You suck!" chants. (Hat tip: Ann Althouse.)
Maryland Representative John Delaney: In. Twitter. Facebook. His name came up on The View…and the hosts didn't know who he was. That's sort of Delaney's campaign in a nutshell…
Hawaii Representative Tulsi Gabbard: In. Twitter. Facebook. She decried a possible war with China. Said gossip that her campaign is being supported by Vladimir Putin is "fake news." You know, I think there's something familiar about that claim…
Los Angeles Mayor Eric Garcetti: Out.
New York Senator Kirsten Gillibrand: In. Twitter. Facebook. She appeared on Face the Nation. Another day, another Democrat lying about supporting the Second Amendment.
Former Tallahassee Mayor and failed Florida Senate candidate Andrew Gillum: Probably not. But the plea deal he cut on four of five charges with the Florida Ethics Commission is starting to look pretty smart now that new indictments are raining down on his associates.
Addition: Former Alaska Senator Mike Gravel: In. Twitter. Facebook. The 18-year old running Gravel's campaign.

At first, they just wanted Gravel to run so he could perform the same function he did in his longshot 2008 campaign – yell at the other candidates on stage and push them as far left as possible, especially on an anti-war foreign policy.

But at this point, nobody can rule anything out when it comes to election outcomes.

"We're running to win, of course, but we don't expect to win," Oks told the Forward. "I don't think Mike expects to become president – it would probably be a hitch in some of his plans."

But earning enough donations and poll support to get him on the debate stage, he explained, would allow Gravel to "put forth criticism of war and the military industrial complex, and even domestic policy, that hasn't been seen in many decades, even more radical than Bernie."
Pushing the Democrats even further left? There's no way that could possibly backfire…
California Senator Kamala Harris: In. Twitter. Facebook. Hugh Hewett thinks it's Harris' race to lose. She wants to ban foreign-built AR-pattern rifles. And that ban would affect who, again? Heckler & Koch? AR manufacturers are overwhelmingly American firms. She also wants to fine companies that don't pay women "equally" with men. That's just the thing for helping American companies compete globally, inserting a member of the federal GenderStasi into every HR department…
Former Colorado Governor John Hickenlooper: In. Twitter. Facebook. He attacked fellow Democrats for daring to challenge the globalist status quo: "Colorado Gov. John Hickenlooper (D) on Sunday took swipes at unidentified Democrats he said 'would have the U.S. withdraw from global engagement.'"
Former Attorney General Eric Holder: Out.
Washington Governor Jay Inslee: In. Twitter. Facebook. Inslee wants to destroy the coal industry. Because that goal worked out so well for the Australian Labor Party.
Virginia Senator and Hillary Clinton's 2016 Vice Presidential running mate Tim Kaine: Out.
Former Obama Secretary of State and Massachusetts Senator John Kerry: Not seeing any sign.
Minnesota Senator Amy Klobuchar: In. Twitter. Facebook. She wants to increase regulation on business, because that's a surefire ticket for economic growth. "Klobuchar's plan also calls for updating the tax code to support 'gig workers' by establishing a national paid leave program, mandatory sick leave and portable retirement savings accounts, funded by employers." Thus ignoring the fact that the reason a "gig economy" exists at all is that government regulations have made regular full-time employees too expensive so expensive to hire.
New Orleans Mayor Mitch Landrieu: Out.
Former Virginia Governor Terry McAuliffe: Out.
Oregon senator Jeff Merkley: Out. Filing for reelection to the senate instead.
Miramar, Florida Mayor Wayne Messam: In. Twitter. Facebook. The Onion: "Mike Gravel Can't Believe His Polling Numbers Neck-And-Neck With Fucking Nobody Like Wayne Messam."
Massachusetts Representative Seth Moulton: In. Twitter. Facebook. He unveiled a national service proposal, which would not be mandatory. So another AmeriCorps to suck up tax dollars.
Former First Lady Michelle Obama: Out.
Former West Virginia State Senator Richard Ojeda: Out.
Former Texas Representative and failed Senatorial candidate Robert Francis "Beto" O'Rourke: In. Twitter. Facebook. "O'Rourke stocks campaign with Obama and Clinton alums." No names I'm familiar with. "O'Rourke's recent hires come after the departure of Becky Bond and Zack Malitz, two senior strategists who worked on O'Rourke's Senate campaign and Bernie Sanders' 2016 presidential effort — both evangelists for the distributed organizing model." Snip. "[Jen] O'Malley Dillon, a former executive director of the Democratic National Committee and deputy campaign manager to Obama's reelection campaign in 2012, is bringing on a roster of staffers with long experience in the Democratic Party." Pledges to "decriminalize truancy, address fines on parents." That would be an interesting policy proposal…if he were running for the El Paso school board.
New York Representative Alexandria Ocasio-Cortez: Constitutionally ineligible to run in 2020.
Former Massachusetts Governor Deval Patrick: Out.
Ohio Representative Tim Ryan: In. Twitter. Facebook. Gets a PBS NewsHour interview. He campaigned in Iowa. He'll appear on a CNN town hall on June 2.
Vermont Socialist Senator Bernie Sanders: In. Twitter. Facebook. "An Our Revolution Staffer Fired For 'Anti-Immigrant' Remarks Is Suing The Pro-Bernie Group For Racial Discrimination." As usual, "anti-immigration" is code for suggesting illegal aliens shouldn't get government benefits. The staffer in question was part of the black outreach team. Also checkout this bedwetting overreaction from Our Revolution's former political director Erika Andiola: "I became sick to my stomach and could not stop crying all night." If hearing contrary opinions makes you ill and depressed, maybe you shouldn't be working in politics. "Bernie Sanders is challenging two cherished theories of electability."

One of those theories is beloved by self-styled centrists, and has served as a way to gate-keep against more liberal candidates. It argues that Americans are ideological moderates who punish political parties for nominating candidates too far to the left or right.

The other is beloved by leftists, and has served as a cudgel against more centrist candidates. It holds that there's a vast working-class majority out there for any candidate willing to slough off the Democratic Party's turn to corporatism, free trade, and identity politics and recapture the economic populism that made the New Deal Democrats dominant for a generation.
Democratic billionaire Tom Steyer: Out.
California Representative Eric Swalwell: In. Twitter. Facebook. "In the six years since Rep. Eric Swalwell (D., Calif.) began earning the big salary that comes with being a member of Congress he has failed to pay down his student loans, cashed out his pension, and accumulated credit card debt." Maybe a guy who can't manage his own finances shouldn't be managing America's…
Massachusetts Senator Elizabeth Warren: In. Twitter. Facebook. R.S. McCain thinks Warren is over: "My guess would be that, after the first round of debates, Warren will fade and Harris will rise, because Harris is black and is obviously better qualified than the other black candidate, New Jersey Sen. Cory Booker. Such is the logic of identity politics, in which Democrats are heavily invested." I expect that this is premature, especially with Warren also making a play for the hard left Sanders voters. "Sen. Elizabeth Warren Has A Plan For Everything — Including Your Love Life."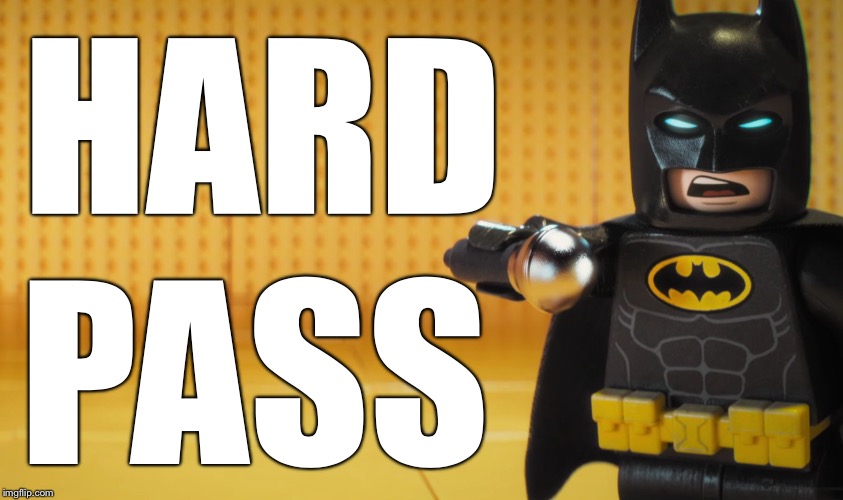 For all the praise The New Republic is heaping on her opioid crisis plan, it just sounds like more federal government money airdrops.
Author and spiritual advisor Marianne Williamson: In. Twitter. Facebook. Heh: "'Tom Perez Is Such a Goddamned Weenie': What Marianne Williamson's Candidacy Reveals About the Democrats." After noting Oprah's not running:

Yet one of Oprah's star guests, Marianne Williamson, is running—and has beat out several conventional politicians, including Massachusetts congressman Seth Moulton and Colorado senator Michael Bennet, to qualify for the first D.N.C.-sponsored debate. That Williamson has qualified is irritating to some of her opponents—not because of who she is, but because of the rules that could make her one of the 20 contenders appearing on the prime-time stage: candidates need to score at least one percent in three certified polls or collect donations from 65,000 different people.
She gets a profile in New York:
Marianne Williamson deserves some serious attention, and not just because she's written four books that hit number one on the New York Times bestseller list. At a time when the leftward drift of the Democratic Party is regularly in the news, she is by any measure the most rigorously progressive candidate in the field of 23. That she wraps her progressivism in a syncretic spirituality instead of socialist materialism may even be an advantage for a politician in this God-haunted country of ours.

Pick an issue, and odds are Williamson is going to out-Bernie Bernie and out-Warren Warren. She's for Medicare For All, unsurprisingly, but she's also for heavy investments in preventive medicine and nutritional education, and a pretty heavy regulatory arm on those she feels are poisoning our bodies, including those who produce "high-fructose corn syrup and hydrogenated fats." So far as I can tell, she's the only candidate committed to reducing national stress levels, too.
And one at The Hill: "Those who say who can and cannot win now are the same people who were telling us that Hillary Clinton was a shoo-in three years ago."
Talk show host Oprah Winfrey: Out.
Venture capitalist Andrew Yang: In. Twitter. Facebook. "Andrew Yang's TED Talk version of politics."

Over and over again when I ask people who identify as members of "the Yang Gang" what attracted them to Yang, they cite Silicon Valley's preferred solution to our economic woes: universal basic income (UBI) or, as he calls it, "the Freedom Dividend." Yang argues that technology is going to eat up millions of jobs over the coming decade, wiping out everything from retail workers to truckers. "How many of you have seen the self-service kiosk at McDonald's or another fast food restaurant?" Yang asks. "You kind of like them. I kind of like them too." The only solution to this inevitability, Yang argues, is giving every American, beginning at age 18, $1,000 a month. He'd fund it by upping taxes on technology companies.

Yang has translated his unlikely background and platform into something of a cult following, centered around men under the age of 40. The idea that anyone except the occasional oddball would thrill to carrying signs with the word "MATH" emblazoned on them — which stands for Make America Think Harder — may feel like a stretch in the United States, where an anti-intellectual streak is writ large, and our current president is prone to saying such things as, "I love the poorly educated." But when people attending the rally talk about UBI, it feels more personal. "It makes a lot of sense, because a lot of Americans are struggling," said Keegan Steinke, 24, a canvasser for a solar company. "It provides a safety net for everyone, and it doesn't provide these perverse incentives like, 'Okay, I made this much, I might lose these benefits,' " said Elliott Ribner, 32, a software engineer.
Politico asks: "Is Andrew Yang for Real?"
Viewed from a great distance, Yang's candidacy has a lot in common with the two political comets that streaked across the 2016 presidential campaign: Donald Trump on the right and Bernie Sanders on the left. Yang runs essentially the same playbook: embracing economic grievance, hammering the tech giants and other darlings of the "new economy," selling his case directly to the working American. Since he launched his campaign in November 2017, he has been retailing a vision of America in which educated, entitled elites have rigged the system and hoovered money away from middle America and toward the coasts, giving little in return. With no prior political experience or prominent backers, Yang is nonetheless gaining a peculiar traction, including some true believers who want him to be president and others who are mostly just intrigued.

Unlike Trump and Sanders, however, Yang, 44, comes precisely from the same corporate, tech-soaked world he is trying to attack. Educated at Phillips Exeter Academy, he made his money prepping students to get into MBA programs and, in recent years, has spent months at a time living in Silicon Valley. He was once a successful startup CEO and head of a group that trains budding entrepreneurs, but in the wake of 2016 presidential election Yang soured on an industry that wreaths itself in promises of prosperity and transformation; he rejects the conventional policy wisdom—popular on the left and the right—that out-of-work Americans should retrain for jobs in tech. And in a Democratic Party reveling in its diversity, the Taiwanese-American candidate says he worries most about how displaced white men will react to their declining fortunes—a stance that has, strangely, won him some fans from the "alt-right."
Tags: 2016 Presidential Race, 2020 Presidential Race, Amy Klobuchar, Andrew Yang, Becky Bond, Bernie Sanders, Beto O'Rourke, Bill De Blasio, Brian Fallon, California, China, Chris Heinz, Cory Booker, Crime, Demand Justice, Democrats, Elections, Elizabeth Warren, Eric Swalwell, Erika Andiola, Guns, Hillary Clinton, Hunter Biden, Iowa, James Bulger, Jay Inslee, Jen O'Malley Dillon, Jill Filipovic, Joe Biden, John Delaney, Julian Castro, Kamala Harris, Kirsten Gillibrand, Marianne Williamson, Mark Zuckerberg, Michael Bennet, Mike Gravel, opioids, Pete Buttigieg, Seth Moulton, Social Justice Warriors, Tennessee, Tim Ryan, Tom Miller, Tom Perez, Tulsi Gabbard, Wayne Messam, Whitey Bulger, Zack Malitz