Matt S. Dowling has a post up up claiming that not only was Tom Leppert playing footsie with the SEIU, but he also sought the endorsement of everyone's favorite pimp assistance agency, ACORN.
Unfortunately, he hasn't actually provided the links to the evidence. When I pressed him on the issue in comments, he said "You ask and you shall receive….on Wednesday."
Well, I like things sooner rather than later, and I wonder if he was hinting at this video showing Leppert hobnobbing with ACORN. Here's the embedded MySpace version of it (I know, in the age of YouTube that's like asking you to listen to a Victrola, but that's the format it's in):

Tom Leppert Supports ACORN for Dallas Mayor

bird | Myspace Video
The video, with a date of June 1, 2007, looks like it was put together an ACORN/Hispanic outreach video for Leppert's mayoral campaign. (Don't ask me why they put the sepia-tone wash over everything.) And here's a screen capture of the pledge it shows Leppert signing: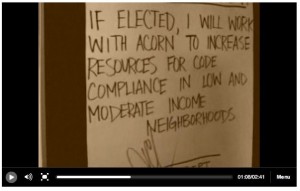 Assuming the date is accurate, and there's no funny stuff in the video editing, it does indeed show that Leppert sought ACORN's endorsement, and pledged to support some of their initiatives.
How damaging will this be to Leppert's campaign? I don't know. So much RINO baggage has tumbled out of Leppert's closet that I don't know how much more damage another skeleton can inflict.
I do look forwarding to checking in with Dowling on Wednesday to see what he's dug up…
Tags: 2012 Election, ACORN, Dallas, Matt S. Dowling, pic, RINO, Texas, Texas Senate Race, Tom Leppert, video