The onetime capital of the short-lived caliphate of the Islamic Republic of Iraq and Syria has been completely liberated by the U.S.-backed Syrian Democratic Forces:
A US-backed alliance of Syrian Kurdish and Arab fighters says it has taken full control of so-called Islamic State's one-time "capital" of Raqqa.

Syrian Democratic Forces (SDF) spokesman Talal Sello said the fighting was over after a five-month assault.

Clearing operations were now under way to uncover any jihadist sleeper cells and remove landmines, he added.

An official statement declaring victory in the city and the end of three years of IS rule is expected to be made soon.

IS made Raqqa the headquarters of its self-styled "caliphate", implementing an extreme interpretation of Islamic law and using beheadings, crucifixions and torture to terrorise residents who opposed its rule

The city also became home to thousands of jihadists from around the world who heeded a call to migrate there by IS leader Abu Bakr al-Baghdadi.
"On Tuesday morning, the SDF cleared the last two major IS positions in Raqqa – the municipal stadium and the National Hospital."
Here are a series of maps (captured from Syria.livemap.com) that paint a picture of how the battle unfolded:
June 9: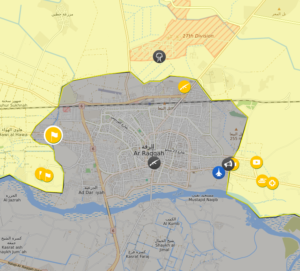 July 12:
August 13: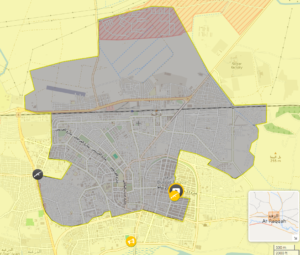 August 25: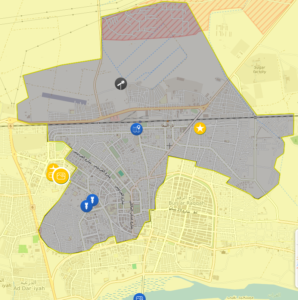 September 5: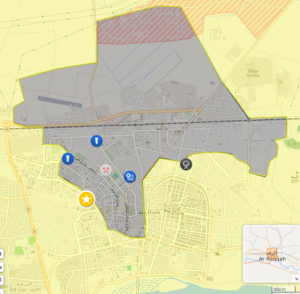 October 8: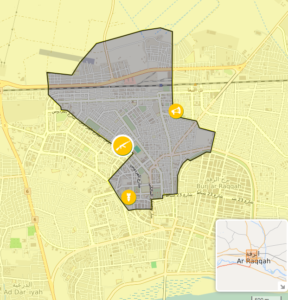 October 14: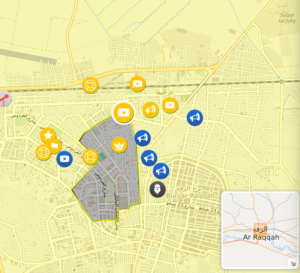 Some additional perspective from Robin Wright in The New Yorker:
"There are other places for ISIS to go and survive, but there's something special about Syria and Iraq and the Fertile Crescent," [Will] McCants, a fellow at the Brookings Institution, said. "It's the theatre of prophecy. It's where the apocalyptic drama unfolds. It's the heartland of the historic caliphate, and it's the scene of the final end-of-times drama, as predicted by Islamic scripture. Nowhere else in the Islamic world compares with it."

McCants said that the fall of Raqqa, a city that was once home to more than two hundred thousand Syrians but is now mostly destroyed, will weaken the group's ability to recruit fighters and inspire attacks. "The fight will go on, and ISIS will morph into an insurgency and may try to reëstablish another state, but, for now, it's a crushing blow," he said. "ISIS put all its chips on creating a state and taking territory as proof of its divine mandate. Some of its followers now have to have doubts."

At its height, the Islamic State was about the size of Indiana, or the country of Jordan, with eight million people under its control. ISIS transformed the world of jihadism by recruiting tens of thousands of followers from five continents—faster, in larger numbers, and from further corners of the Earth than any other modern extremist group. The caliphate was formally declared by Abu Bakr al-Baghdadi on June 29, 2014, from a pulpit in the Grand Mosque of Mosul, the largest city under ISIS control. It, too, was liberated, in July, after a gruesome nine-month offensive by Iraqi security forces.

ISIS still holds bits and pieces of territory in both countries. But it no longer rules. Baghdadi, an Islamic scholar who was detained by the U.S. military in Iraq for almost a year, in 2004, as prisoner number US9IZ-157911CI, has not been sighted in public since the unveiling of his caliphate.

At a press conference on Tuesday, Army Colonel Ryan Dillon, a spokesman for the U.S.-led coalition supporting the campaign against ISIS, said, "Over all, ISIS is losing in every way. We've devastated their networks, targeted and eliminated their leaders at all levels. We've degraded their ability to finance their operations, cutting oil revenues by ninety per cent. Their flow of foreign recruits has gone from about fifteen hundred fighters a month down to near zero today. ISIS in Iraq and Syria are all but isolated in their quickly shrinking territory." Brett McGurk, the Special Presidential Envoy for the Global Coalition to Counter ISIS at the State Department, tweeted that an estimated six thousand fighters had died in the battle for Raqqa.
There's talk that the Islamic State's surviving foreign fighters will relocate to Libya, where a civil war has ranged off and on since Moammar Gadhafi's ouster/execution (thanks, Obama).
Now if only the various factions fighting the Islamic State in Iraq and Syria can finish it off there rather than turning on each other…