After having secured the Syrian border, Iraq has declared the war against the Islamic State over. Syria strongman Bashar Assad's patrons the Russians have likewise declared Syria liberated from the Islamic State as well. Both of these statements are slightly premature, but not by much.
Right now isis.livemap shows the Islamic State disjointed into five enclaves, two in sparsely populated desert areas in Syria, one similar area in Iraq, and two small enclaves along the Euphrates in Syria southeast of Deir ez-Zor, both of which are being systematically crushed by the forces of Assad's Syrian government of the Kurdish-led and U.S.-backed Syrian Democratic Forces.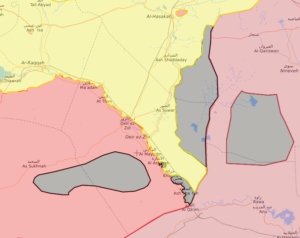 Once those small pockets are crushed, the military war against the Islamic State is effectively won, though expect it to linger on as yet another international jihadist terrorist organization, a tiny shadow of its former self, until the last of it's many affiliates are either crushed or pledge allegiance to another leader.
More Islamic State news: