Turkey just launched a major military operation in the Afrin region of northern Syria in order to crush U.S.-backed Kurdish forces in the region:
Turkish war planes have launched air strikes on Kurdish militants in northern Syria, in a move likely to cause tensions with the US.
It's not just warplanes. There are reports of Turkish Leopard tanks crossing the border.
Turkey wants to oust the Kurds, which it calls terrorists, from Afrin region which lies across its southern border.

Some Kurdish groups are allies of the US against the Islamic State group.

Russia has moved its troops away from Afrin, saying it is concerned but will not interfere. Syria denounced Turkey's "aggression" and "brutal attack".

Turkey had been shelling the area for two days, ahead of its declaration of a military operation on Saturday.

Turkish Foreign Minister Mevlut Cavusoglu says Turkey has notified all actors involved – including the Syrian government – about the offensive. Syria denied this was the case.
According to Livemap, Afrin is a very active theater right now: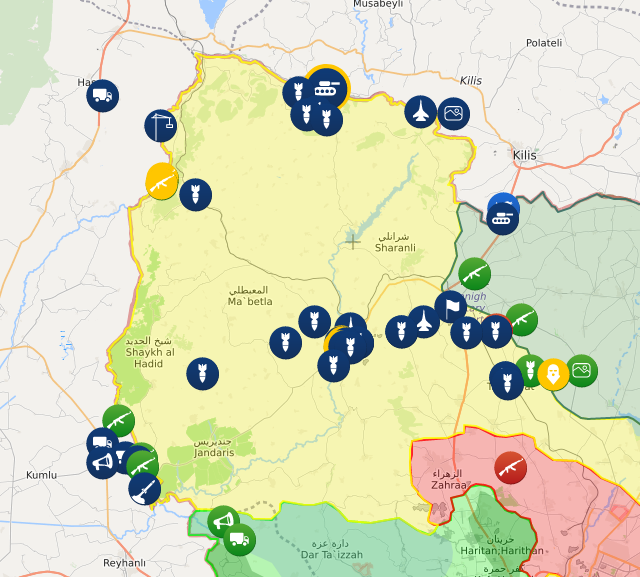 The yellow area is Kurd-held territory in Syria, while the blue dots are Turkish military activity.
How much, if any, of the area is held by the directly U.S.-backed, Kurdish-led Syrian Democratic Forces is unclear. ("Unclear" being the watchword for much of the Syrian civil war.)
I can't imagine that this will improve already-bad relations between the United States and Recep Tayyip Erdogan's scumbag Islamist government in Ankara. Maybe, as with our erstwhile "ally" Pakistan, it's time to cut ties with Turkey (and start moving to get them expelled from NATO), as they've been more of a hindrance than help ever since Erdogan took power.